Introducing Cassia Iman: Candidate for the Most Cutest, Most Adorable Baby Ever!
12:10:00 AM
Hello all. Hope you all had a splendid weekend!
I'm truly sorry for the lack of updates. For the past three weeks, I've been going back from office after midnight every single day (and there were a few times that I went back home from the office after 5a.m). Work has been really gruelling and extremely tough. But I'm enjoying my work and hopefully things will be less hectic starting next week when three new lawyers will be joining. Anyhow, I haven't had the time to do so many things. However, amidst the busy work schedule I've managed to steal some time to do some of the other non-work related things that I also love. I just haven't had the time to update my blog, which I hope I can do more from now on.
Yesterday, I attended Shasha Elisa's and Carl Iskandar's kenduri aqiqah for their little princess, Cassia Iman. It sort of hit me when I received the invitation because I swear it was only just recently that I attended the cute and sweet
Baby Shower
. Oh, how time flies. I've been saying that quite a lot nowadays.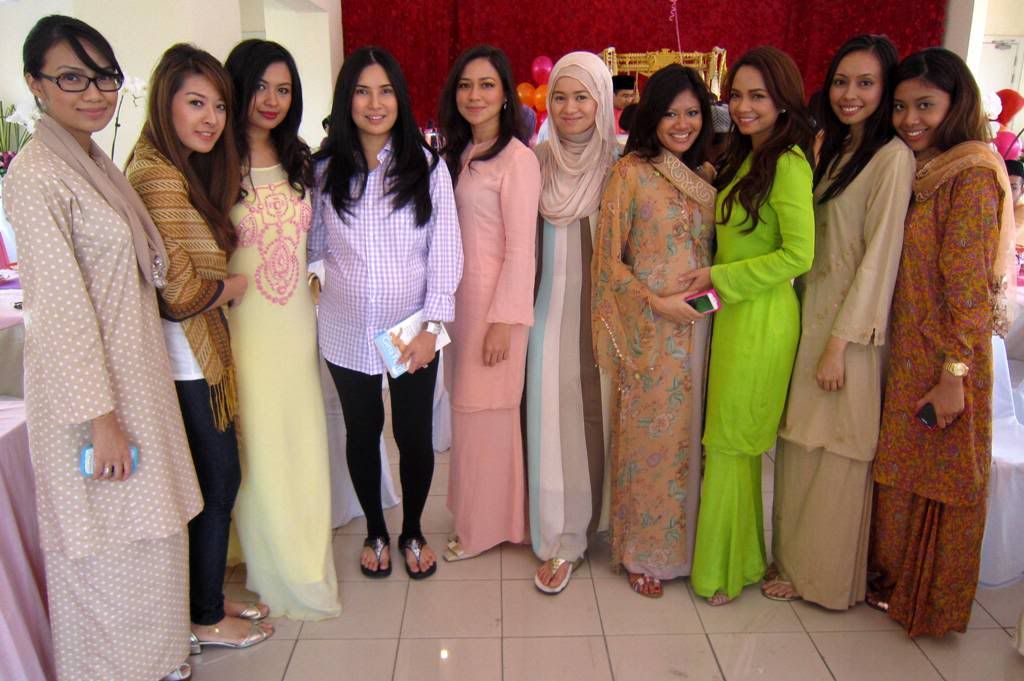 The so called 'aunties' :
)

Anyway, I loved the whole theme. There were balloons and flowers everywhere. It was beautifully decorated and everything was sweet and proper. But the star of the show was undoubtedly Cassia Iman. She was just soooooooooooo cute and adorable. Seriously, I felt like i wanted to pinch her and never let go. She was just annoyingly adorable and she loved all us
makciks
(aunties) being around her. She never cried at all and just seemed to love to toy with our feelings with her cuteness. Everyone wanted a piece of her, she was just that cute okay! And her eyes are naturally gray... (By the way, what is this I heard about a new fatwa on coloured contact lenses today? Anyone care to enlighten me on this?)
Anyway, thanks Shasha and Carl for inviting us and I can't wait to see Cassia Iman again. Geram! Grrrrr.................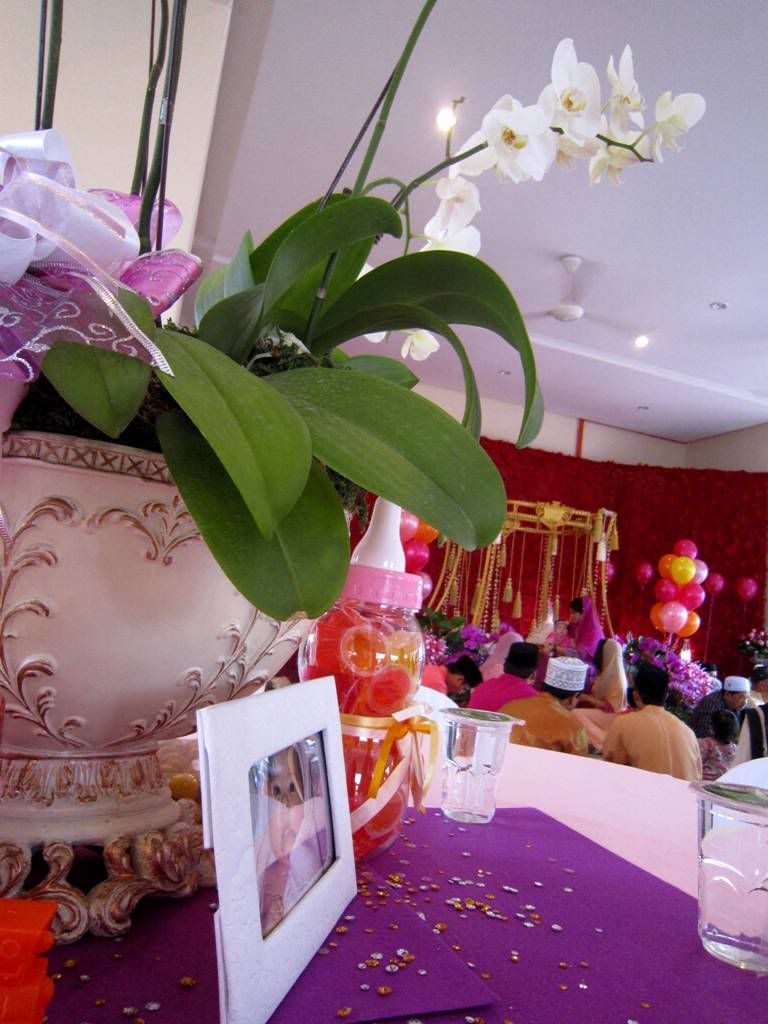 Each table had framed pictures of Cassia together with cotton candy floss, lollipop and marshmallows.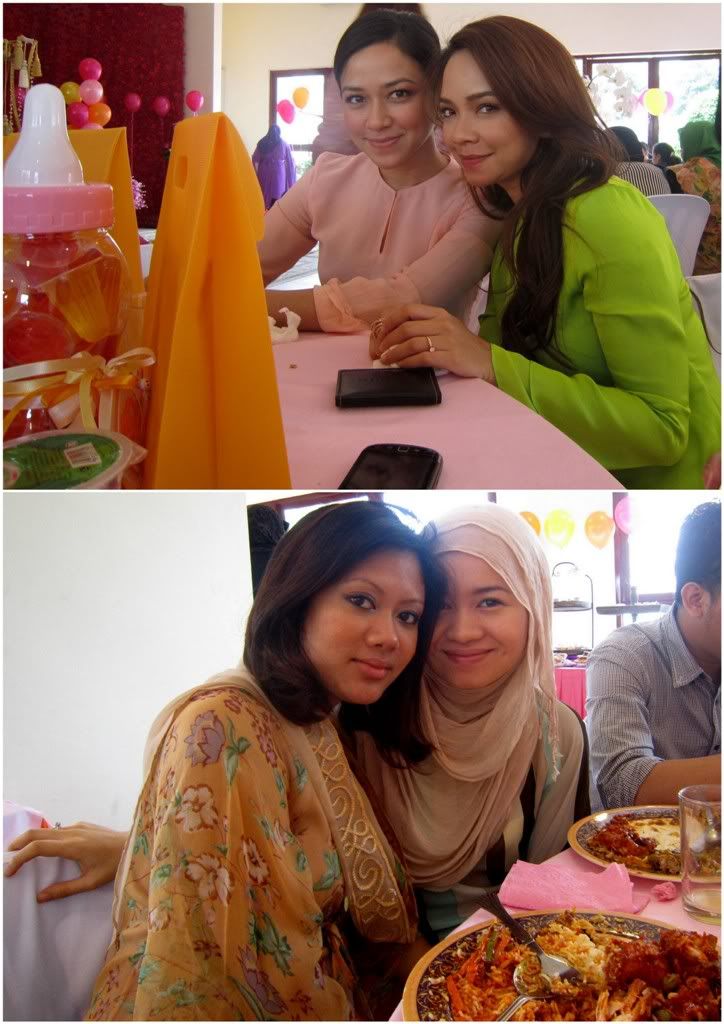 Sat with my cousin Cho Azalea, Yong Nora and Kak Yaya. The rest came later.
Btw, the food was awesome.. The lamb dish? Delicious.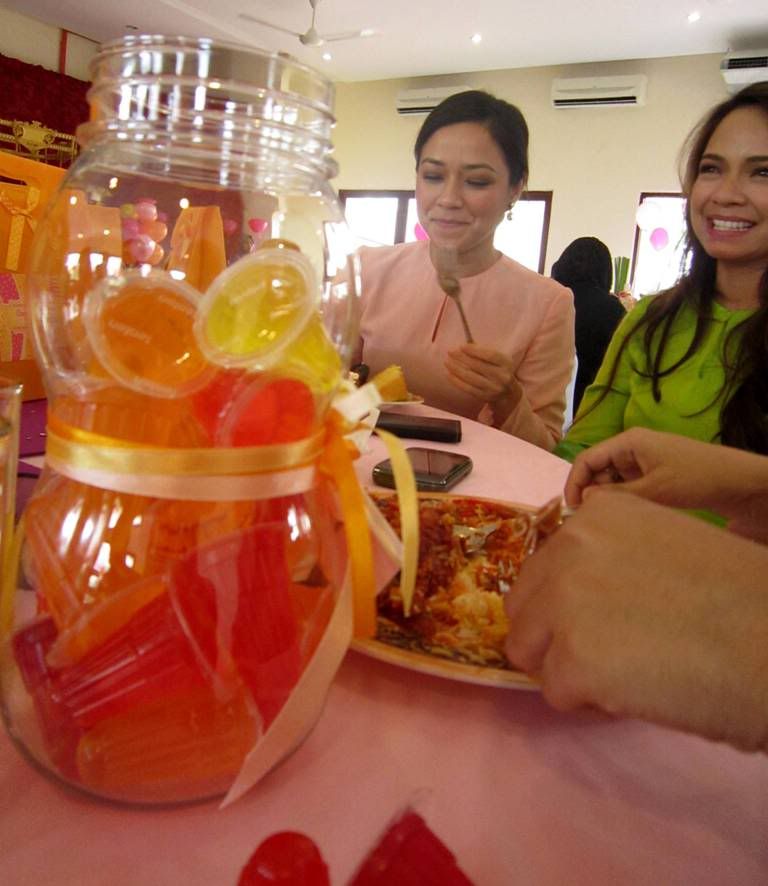 I had more than five of those jellies. Brings back memories when I was in primary school
:p
With the pretty sisters Nora Danish & Nadya Danish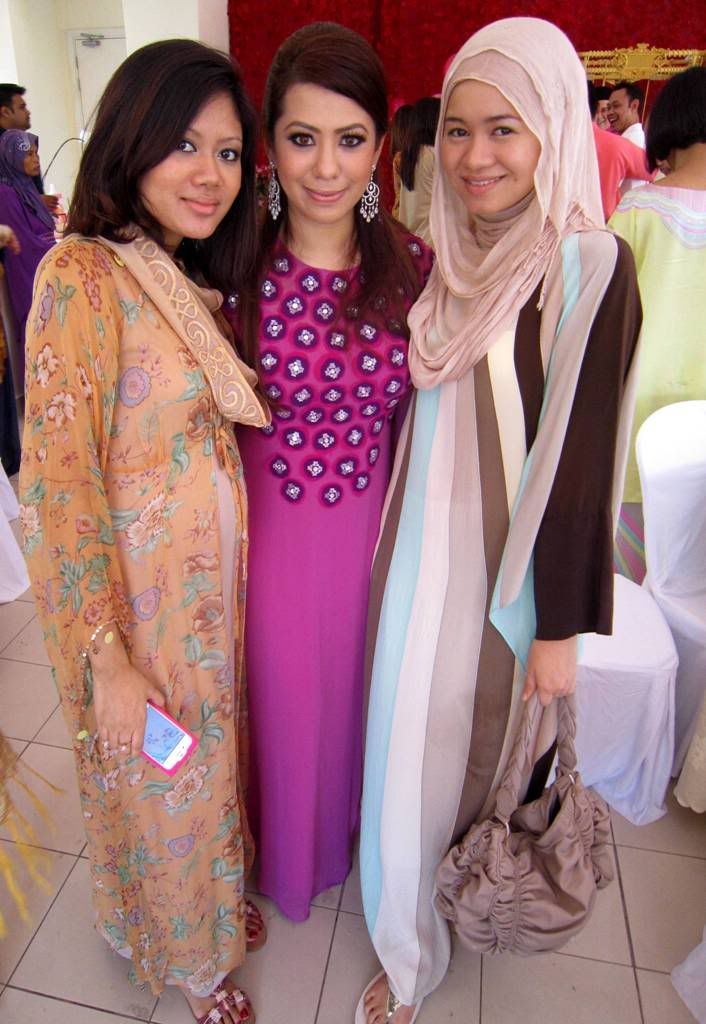 One for the album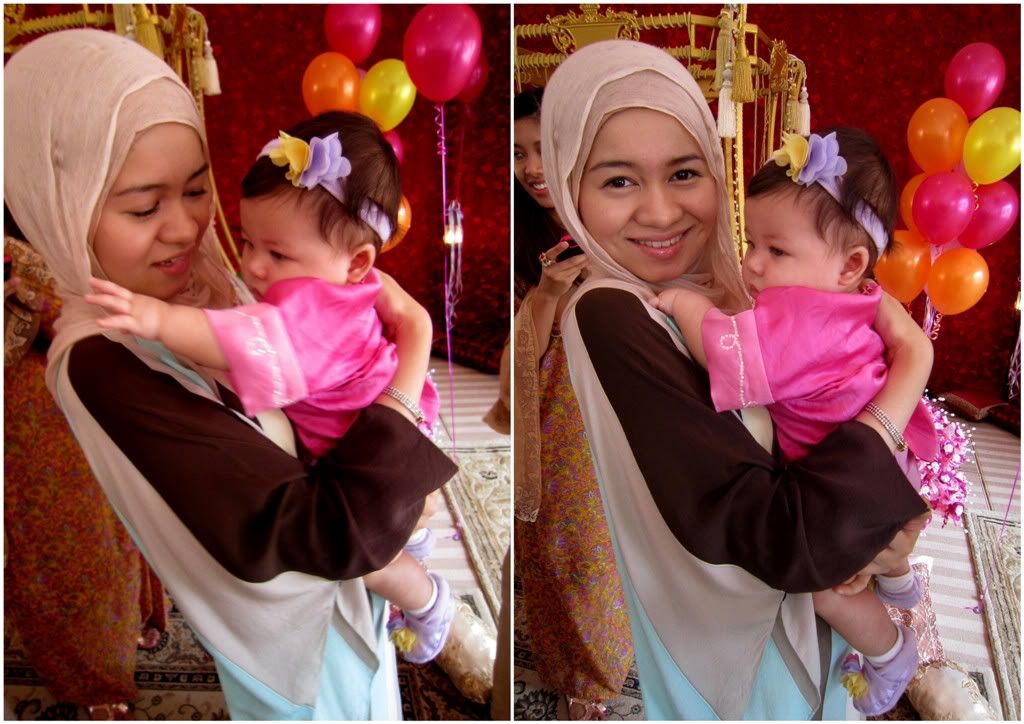 She played with my hijab. Hehe.
Soon to be mama Cho! Can't believe my cousin is already four months pregnant! We grew up together and now she's going to be a mum???!! How time flies... *sigh*
Anyway, I wore one of my favourite batik kaftans.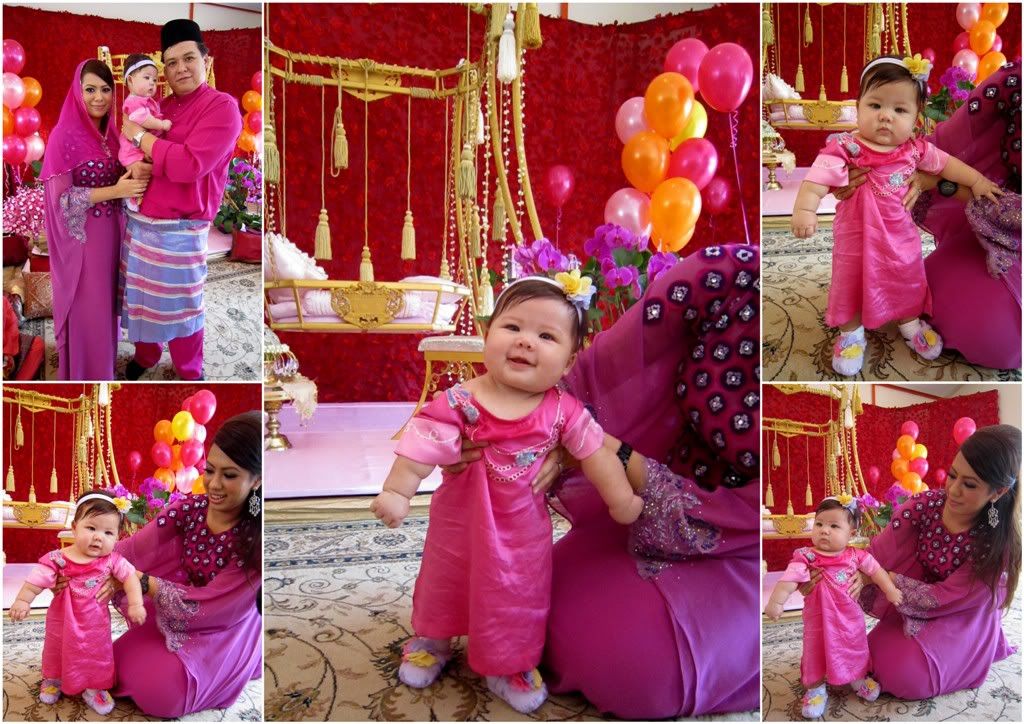 Look at the adorable Cassia Iman! Annoyingly and adorably cute isn't she?? Grrr... Feel like pinching her all over! (In a good geram way though) :)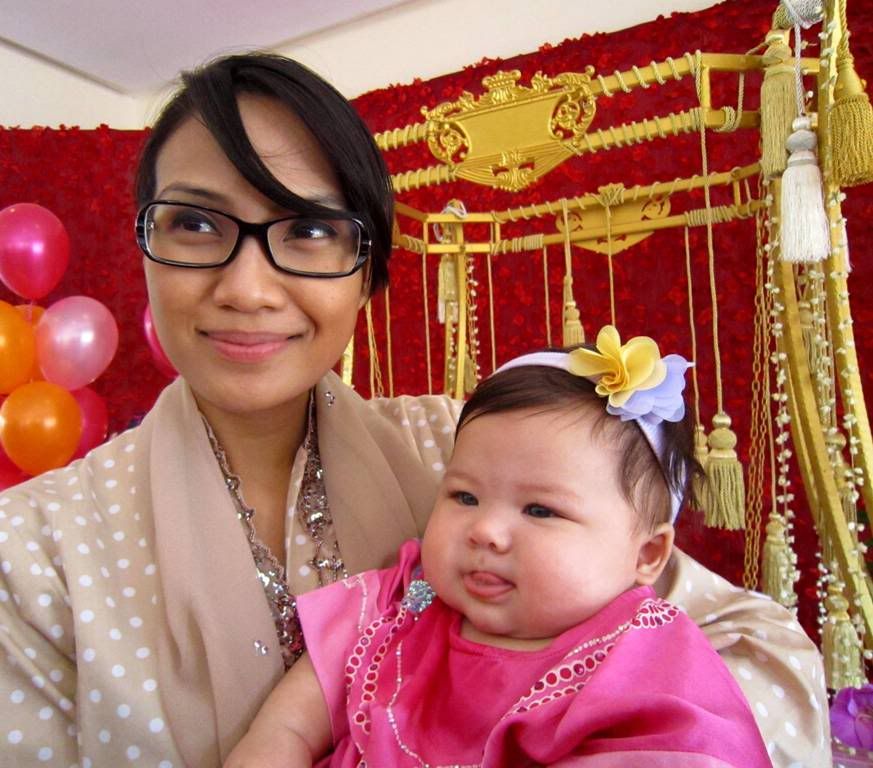 The cheeky Cassia Iman, stuck her tongue out for the camera.
Till my next post! :)