Sure Pizza? Sure!
11:50:00 AM
A while back my friend/colleague, Anwar, introduced me to this place called 'Sure Pizza' for lunch. It was a quiet, unassuming joint with a suspect name. The place had minimal decor and had pictures of (presumably) the owner and his family and some visitors to this restaurant. What was nice about the place was that the kitchen was in full view of the patrons and we could see (if you wanted to) what the chefs were up to. Well, you know what they say: Don't judge a restaurant by its name!

We first ordered the
Calzone
and
Penne Alla Marinara
for sharing (3 people). I've never had
Calzone
before, it is basically a folded pizza but really looks like a huge curry puff. But the
Calzone
here is
HUGE
I tell you. It was filled to the brim with cheese, pepperoni, turkey ham and mushrooms. The marinara had generous servings of fresh, juicy seafood which was superbly complimented by the absolutely perfect tomato sauce. Both dishes were superbly done. They were really nice and since everyone was devouring it at speed, we quickly decided it was not enough!
So we decided to order the lasagna. The lasagna was, as we had anticipated based on the two dishes served before, perfectly cooked and had a certain Italian authenticity to it. The cheese was just right and perfectly baked. The fillings were very flavourful and really juicy. The lasagna was not too soggy nor was it too hard. No wonder my colleague loves to eat here.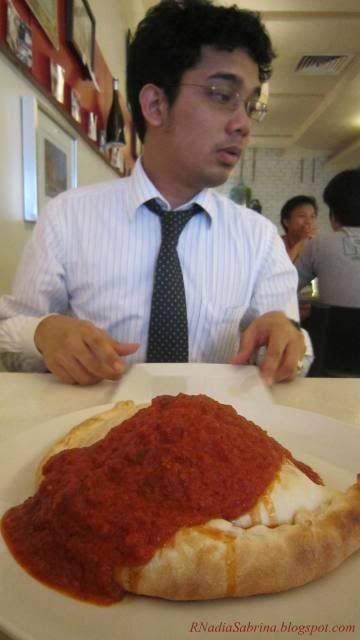 My hubby managed to join us just as we were about to finish, and that was the perfect excuse to order... ANOTHER
CALZONE!!!
We were on a roll, the food here was so good and we lapped it every single bite.
I can't tell you!
Hehe. No, I'm not keeping the location secret or to myself, but when we ate there a month or so ago, it was their last day at Plaza Hartamas / Damas before they were relocating. They promised to update us on their new location and we're still waiting. Can't wait to bite on another of their
Calzone
and try the other stuffs on the menu. It should be good.
I did not manage to ask the owner about the name, because they were quite busy during lunch hour, but my hubby suggested that they should probably add in another word to their Restaurant name: Sure
Best
Pizza!
Til my next sure post!