Fashion of Colours
12:22:00 AM
Morning all, I woke up really early today so I have decided to put up a quick post today!

Some of my blog readers / facebook messagers (hehe) have asked me where I gather my fashion inspirations from. To be honest, I really do not know how to answer that because of the many inputs we receive in this modern world. But normally what I do is that if there is a look, fashion piece or statement which I stumble across or really like online, I will save the image and keep it for myself. But since some of you have asked :) I'll share some looks that I've adored recently. Some of the colours that have captured my imagination:

1) Purple - I've always loved this colour. I t.hink the many shades of purple makes it a fun colour. It looks yummy, like berries!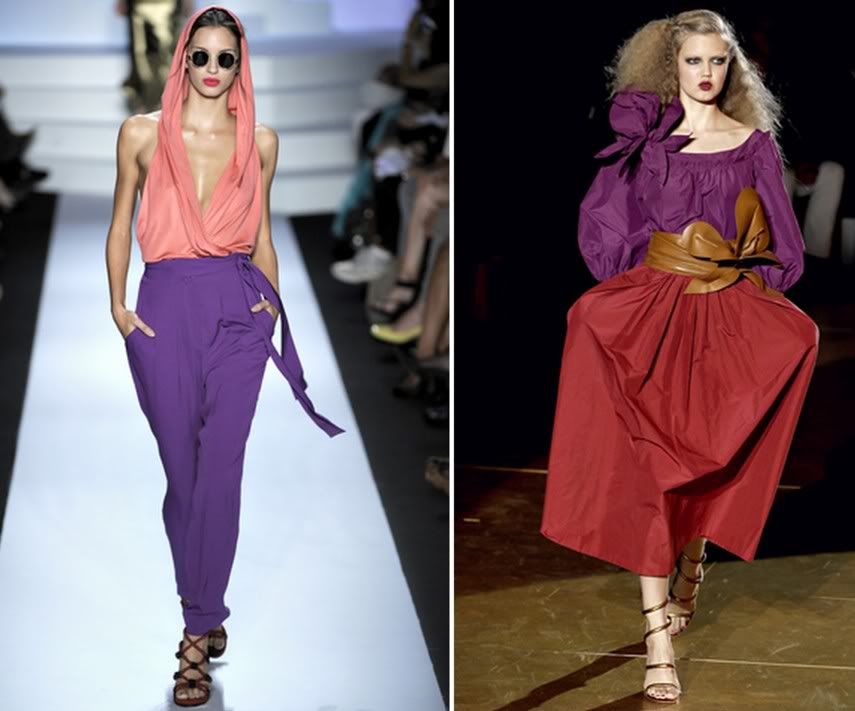 L: Diane Von Furstenburg, R: Marc Jacobs
2) Yellow - Yellow is a very fresh colour. Yes, I was inspired by this when I wore

Lemon Bursts of Life

.
I do not know why many people are not brave enough to wear yellow, especially in our hot climate. You should!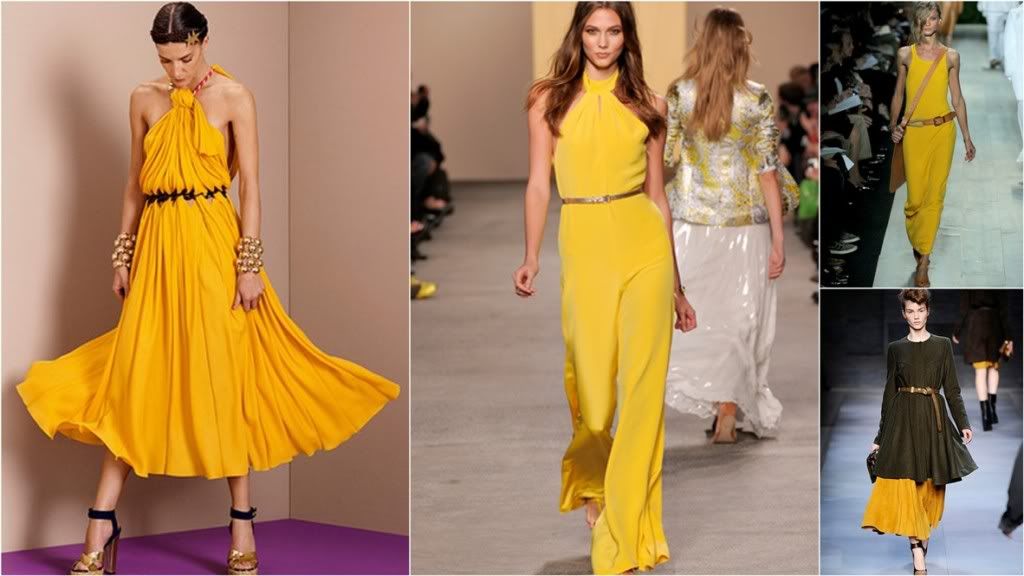 L: Vionnet C: Paul & Joe T: Michael Kors B: Fendi


3) Purple (again) Sorry I just love this colour! Some people think Purple is not a very flexible colour but it can be used with other colours just as well.

4) Peach and Light Orange - It is sometimes good to play with softer colours, and I've always preferred peach to pink, although I have started to use a little more pink. But peach and this lightish orange colour suits me more. Dusty peachy pink with gray was one of the colour themes of my wedding (will try to put up a post on it soon). Something similar to
this
.
5) Red - Like they say, beware the Lady in Red. And this Red is HOTTTTTTTTTT.
My attempt ;p
6) Blue - Blue is my favourite colour and although turquoise, navy and royal blue is the classic favourite, at the moment I really love the toned, muted blue on the left as well as the deep, rich, rich, rich blue on the right. Oh, and I totally am in love with the gray skirt on the left and the long sleeved long dress/kaftan on the right! Drool.