KIL the Movie : A Must-See : What I Feel
4:19:00 PM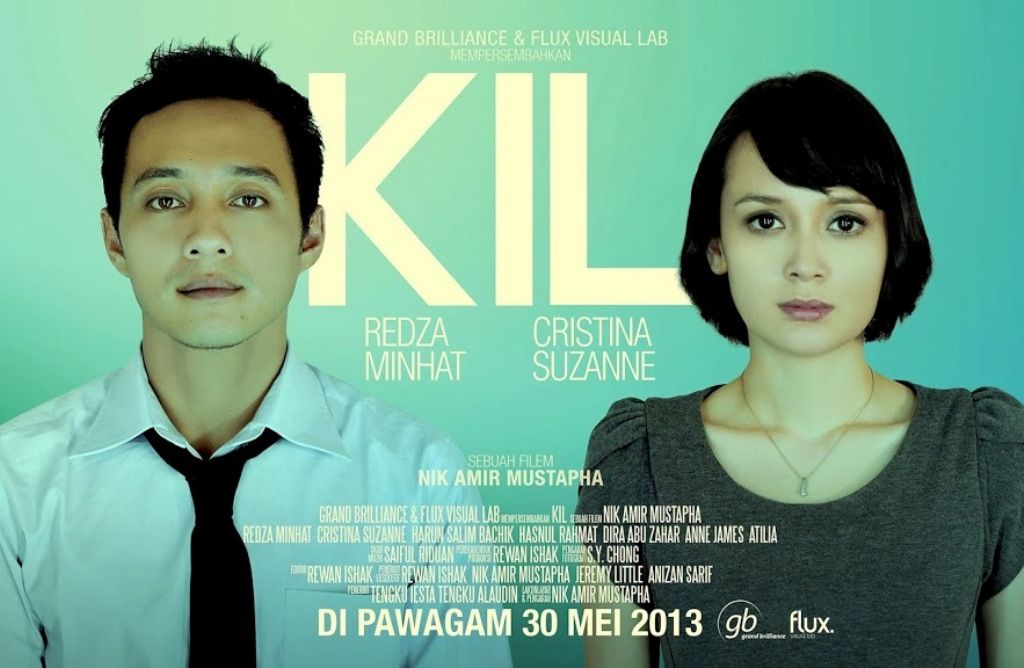 I watched KIL the movie last Sunday (2nd June 2012) together with my family. My husband bought the tickets for us. I didn't know what to expect because to be honest I haven't heard anything about it before and therefore I had no idea at all what it was about. He only told me that the genre of the movie was drama, mystery and romance. Apart from the 5 of us, there was only a couple behind us and one other person in front of us. So there were only 8 people in the cinema. It was an empty hall. I was quite surprised because my husband said the movie was getting good reviews.
The last time I sat in a cinema hall this empty was when my family and I watched
The Song of Sparrows
at GSC Pavillion a few years ago which turned out to be an excellent movie so I ignored the fact that the cinema hall was almost empty. It almost felt like we had the cinema all to ourselves.
Firstly, I want to put a disclaimer here. I am no film critique or reviewer. I'm not going to give a professional film review. I'm just a normal person who loves watching all sorts of movies of different genres since I was little. I have a lot of favourite movies for different reasons. So I'm just going to share what I feel about KIL the movie.
Early on at the beginning of the movie, I was already very impressed with the cinematography and the colour tone which was maintained throughout. The first scene left a big impact on me and was very unique. I can honestly say I have never seen any Malaysian movie with this sort of quality and bravery before. Granted, I don't watch a lot of Malaysian movies, but I compare with the ones I have seen. The movie did a very good job of engaging me and keeping me on my toes as I was curious of what was going to happen in the next minute.
Cast :
Redza Minhat gave out an excellent performance throughout the movie, I thought. He didn't speak much but his facial expressions and body language was enough to show how he felt. It was very real and I share the pain that he potrayed through the character. Cristina who looks a bit like Zooey Deschanel was very cute & quirky too. I've never seen Cristina before but I would love to see her in more Malaysian movies in the future. Both of them played their roles very well. I was quite surprised that she speaks excellent bahasa Malaysia (Malay Language). KL style.
I remember watching Redza Minhat at Projek Disko Baldi, Pisau Cukur and later on reminded by my bestie Ruzana Ibrahim about his theatre performance at UM for Romeo and Juliet that we watched together years back.
Story:
A very brave effort to do this kind of movie in Malaysia, considering the suicidal theme, as it is such a taboo topic.
In the end, I think the trailer is a bit misleading. It is not just "a feel good movie about suicide" as they put it. It is a story about LIFE. A story about the reality of DEATH. Daily issues. Humanity. Filled with subliminal messages. Something which is lacking in the Malaysian movie scene. Hope there will be more movies like this presented in the most creative and beautiful way.
Verdict:
This is not another movie about ghosts, gangsterism, rempits, black magic and/or slapstick jokes.
This is a Malaysian movie I am very proud of. The movie was artistically done. It has not gotten the attention that it deserves, I feel. When I came out of the cinema I felt happy to see a Malaysian movie that good. The hall was supposed to be full! Not empty! An interesting storyline, excellent performances by the cast and beautiful cinematography, gorgeous and artistic visuals. What more could you ask for?
Of course, to me, not all movies with awesome cinematography will be awesome. That is not the only ingredient. But, this movie is different. It has soul. It has a message. I can relate to it in many ways albeit on a different level altogether. This movie touched my heart.
Finally, something Malaysian film industry needs. Non-cliche storyline. Undeniable quality. The only thing lacking is serious promotion. Having said that, I too knew nothing of the movie, and if it wasn't for my husband, I probably never would have seen it. I'm glad I did, so I'm doing my part so everyone can catch it in cinemas before it's too late!
More:
At the end of the movie, I was left wanting for more. Having gone in the cinema with no knowledge whatsoever about the movie, I went out wanting to know everything about it: from the cast, the director, the music, everything. That's how good it was.
As I sat through the credits, I saw the name of my very good childhood friend, Ena! She was involved with the shooting of the movie. I contacted her afterwards and she told me that the team was very small and they did not expect it to be distributed nationwide. From
Rewan Ishak's blog
I found out that the shooting was only done in 11 days with a very low budget! It did not not look or feel like it all. I guess the passion of the dedicated team really shines through the end results of the movie.
I also later read that this movie's too similar to a movie called
I Hired A Contract Killer.
Well, whatever it is, it is still a first of this kind of movie in Malaysia. Correct me if I'm wrong though.
For a Malaysian movie, the movie is superb. But just to be slightly critical, hopefully constructively, I would say that the ending could have been more drastic. However, after the movie I read up a very thorough film review by a pro
KIL : Seperti Denyaran Cahaya by Fadhli Al-Akiti at Tonton Filem
. where he suggested that the ending was supposed to be more drastic. However, I would not recommend you to visit the said link if you haven't watched the movie!! Haha.
Conclusion:
Worth every penny. Worth mentioning to every single one I know. Unique! Defininitely different than any other Malaysian movies I've seen before. Kudos to the talented writers and directors. Well done Nik Amir, Rewan Ishak, Flux Visual Lab and the rest of the team. Don't stop making movies! I'll watch out for you guys.
Details of the movie:
Director : Nik Amir Mustapha
Official Synopsis.
Akil (KIL) is a depressed young man who has suicidal tendencies. But, he could never bring himself to commit suicide. His attempts to die always fail miserably until he finds the perfect solution: A quirky assassination agency that helps kill suicidal people. KIL agrees with the terms of the company. The assassination will be anonymous. He wouldn't know the details about who the assassin is, even when or where he will die. This was ideal for KIL, until he falls for a girl he meets, Zara. Suddenly, he starts to have second thoughts on taking his life.
Go watch it. It's a 2013 Malaysian movie must see at the cinemas!
For those who haven't watch it, you can skip the trailer below if you are like me. I like to expect the unexpected :p
Here's the unofficial trailer which was uploaded on Youtube on July 2011.