Rediscovering the World
12:46:00 PM
Peace be upon all of you. Assalamu'alaikum.
A lot of people have asked me how I am. My updates. I am thankful to have people who are concerned about my wellbeing. My standard answer?:
Alhamdulillah, I'm progressing well and recovering slowly. Praises to God for all the blessings. Thankful for the gift of being a mother. Jibrael's mother.
That is how I feel. That is an honest answer but only a little part of it. It doesn't reflect everything I feel. Honestly, what is a very simple and well-meaning question does not have an easy answer, at least for me. And I still haven't figured how to answer that question ever since I was in the hospital until today.
It has been a roller coaster of a journey emotionally. The untold joy, feeling and experience of being a mother for the first time, then suddenly being put under strict bedrest in the hospital on your birthday when you thought everything would be fine, having to fight and struggle for 78 days to preserve your beloved child's and your own life, going through an emergency c-section when you least expected it, the greatest feeling of delivering your baby safely into this world, being able to see and talk face to face to your baby for a brief moment before having to say goodbye and then having to straight away grieve and recover in confinement without your child has just been a lot to take. I gave everything that I had. It is a mixture of all kinds of feelings, mentally and emotionally.
For this whole experience that God has put me through, I would not trade or exchange it for anything. A friend asked me if I could turn back time without being able to change the outcome, would I choose to go through this again? Without hesitation I answered that I would do it all over again. I understand not everyone will ever get to know how I feel exactly or would want to, in the same circumstances.
Having said all that, memories of my life before 1st November 2012 seems so distant now. 1st November 2012, my 28th birthday, and also the day I was admitted in the hospital to fight for my daughter's life. My mind is filled with and replaying every single detail from that day onwards, so much so that what had happened before seems like a lifetime away. It's not an exaggeration to say that nowadays I really feel like that my life just started on 1st November 2012. And I have been struggling to remember the life before then.
I spent a long time in the hospital. I received a lot of visitors, but mostly it was just Jibrael, my husband and I. And my family. I was in my own world with my daughter and although it took adjusting, I gladly gave up all thoughts and focus on other things: My work, My life, everything to concentrate on Jibrael. When the doctors cleared me to be discharged from the hospital, I was terrified. I was afraid to leave the hospital. Afraid to leave the memories created between my daughter and I there, afraid to face the outside world I had renounced. I refused to leave the hospital and had to be coaxed by my family members to return home.
During my confinement, my husband has been trying to bring me out of the house as advised by my midwife. I did not understand why. I did not feel that I need to go out. I did not want to go out. I was happy just being at home slowly to get myself better physically. I think I did not realize at the time that I have not faced the outside world for 105 days. I did not realize that my husband was worried that subconsciously I was mentally putting a barrier and secluding myself from the outside world. I gave all sorts of excuses to avoid going out because I just didn't feel the need to go out. I did not look forward to going out. But after much attempts and persuasion on his part, I finally made it out. Alhamdulillah.
I finally went out on 13.02.2012, exactly a month from the day I went into labour. The day before the happiest day of my life, the most beautiful day ever in my life, the day I managed to see my eldest daugther after carrying her for 27 weeks. Jibrael's birthday.
How did it feel after not going out for so long? Everything seemed alien. Unexpectedly surreal. I was still afraid to face the world. Familiar but distant. It is almost the same feeling I had when I initially refused to leave the hospital. It was a mixture of fear, anxiety but there was also a little bit of excitement. Fear as I've learned and experienced that anything can happen at any time. Everything can change in a split second, if God wills it. I was also excited to go out. When I was in the car with my husband, I felt like a little baby, going out for the first time. I was giddy and smiling with glee. But when I reached KLCC, I was overwhelmed by so many people and the noisy sounds. I clinged and held on to my husband with all my strength all the way. I did not move much in the hospital and at home my movements are restricted as I am still in my confinement. When I was walking around, even though slowly, it felt like a heavy workout session. I came home exhausted.
I tried my best to push myself to be strong and fight the fear that I had (and still have) but at the same time I felt excited because it felt like a first date with my husband. I had fun. We did not go very far from home (it was just KLCC) but it felt like I was in another place altogether. It felt like I've never been there. I forgot how it looked like. With so many people around me, I was suffocated, I was lost, I was overwhelmed. I couldn't handle that many people. Thankfully, I was with my husband, otherwise I don't think I would have survived KLCC. Not a joke.
I think I have lost any familiarity or connection with the world. Detached. On the upside, we did not have to go very far to feel a sense of wonder. A sense of adventure. A sense of travel. I find that rediscovering places, even those close to home, is a wonderful thing. Especially places which we have taken for granted and lost those senses that I am now rediscovering.
When I stepped out and saw the clouds, the greens and trees, nature and all of God's creations His greatness in His beautiful creations is reinforced in me. At the same time, I still wonder how God's greatest creation is doing. I am comforted that she is in a better place. A place much better than this world we are living in right now. A world beautiful beyond imagination. I crave to be there, I long to be there. To see her again. One day, InsyaAllah.
The husband and I spent our time watching Journey to the West just for laughs. My husband just wanted to bring me to watch a light movie, but I could relate to a scene where some mothers fought the sea monster to protect their children when everyone else was afraid and did nothing. They failed, but they overcame their fears to save their children. I cried.
We also browsed through books at Kinokuniya, sat in front of the fountain, took some pictures and had a wonderful dinner at UmaiYa. That was the first time I had eaten out in months. It really felt like it was our first date. Beautiful. Praises to God. Like I said, I look forward to rediscovering the outside world. Slowly, though. God-willing.
In the car all pumped up.
Chilling by the fountain
The husband with the stuffs we bought from Kinokuniya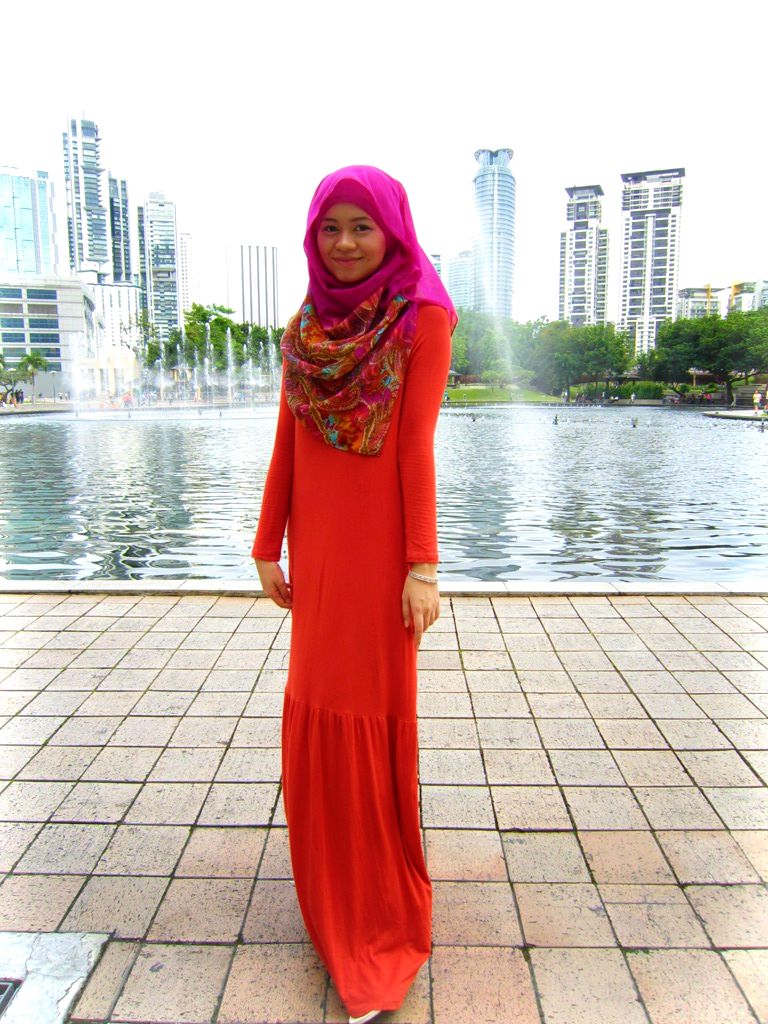 Me, trying my best to stand tall :)
Beautiful view of the KL city scape
The eyes that soothe me
Proud parents of Jibrael Alhamdulillah.
Our first dinner date

My view of the twin towers from the car on our way back home