Mimie ties the knot
3:27:00 PM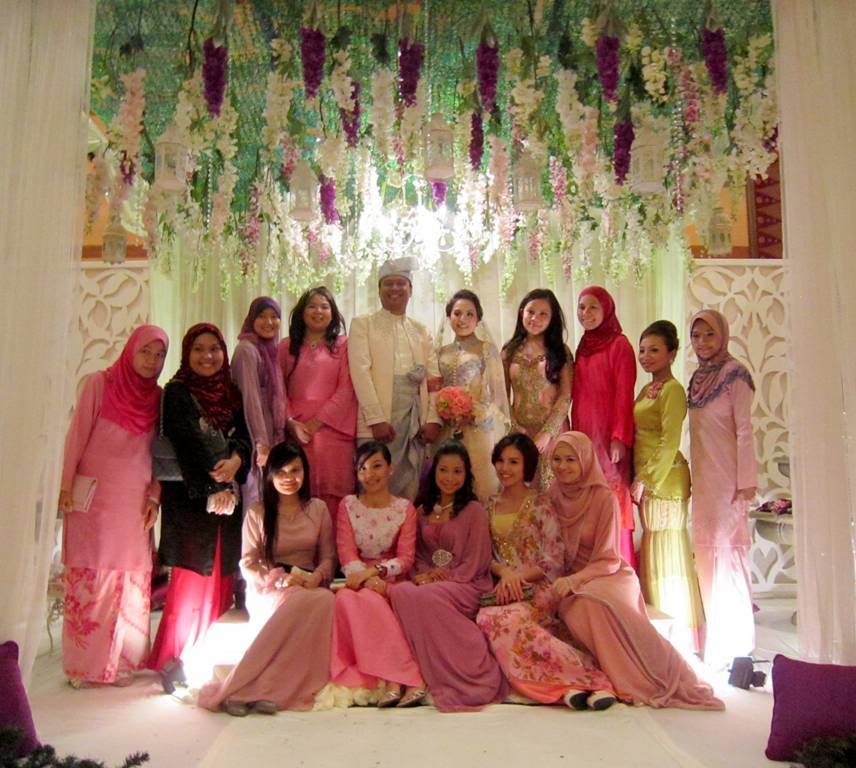 So yesterday another of my close school friends have tied the knot. Congratulations Mimie & Didi!! <3

Mimie is one of the SB (cannot tell you what it stands for) gang, one of the girls in my group where we always used to meet during recess each and every single day since Form 1 to Form 5, from 13 to 17 years old. That is how we remained close throughout the years even though we were not all in the same class. We didn't eat at the canteen tables, we preferred to eat at the stairs because we could sit closer to each other. That's how we got the nickname gadis-gadis tangga (stairwell girls).
Mimie's wedding was beautiful and one of the most intimate and personal weddings I've attended. At the reception area, guests were asked to take photos with some props, and write notes & messages to the bride and groom and hang it on a 'wishing tree'.
The event started off with a few of her relatives performing a surprise glee-style wedding dance and almost had the guests dancing because the music was so upbeat. I couldn't take proper pictures because they were dancing so fast. Then some boys from St John's band performed before the bride and groom walked down the isle. Mimie looked so beautiful and her wedding dress fitted her gorgeously.
To me, the highlight of the wedding was the video shown made by her siblings after they showed the 'usual' video presentation of the couple. Her siblings interviewed her own family members and it was so sweet & personal, I teared a little. I think everyone else did too. It was funny and the fact that they did it themselves was so nice. It ended with an echo of everyone shouting 'we love you mimie'. The video was professionally done but most importantly it has that special touch.
I loved the pelamin, the lighting was just perfect for photo-taking! And as usual, we took lots of crazy photos. Before we left, we had a little fun with the props as well! Hehe. I just found out before the wedding that the theme was dusty pink, and I didn't have any, so Shereen gave me her kaftan dress. It was so lovely, I loved it (Can I have it please, Shereen? Hehe). Since I don't have sisters of my own to borrow their stuffs, Shereen & I sometimes share stuffs since both of us are the only girls in our families. The thing with Shereen is that she is so good at designing her own dresses. She knows what she wants and her designs are all so nice. You can see how Shereen wears her beautiful kaftan during my wedding here.
Oh, and another thing. I haven't uploaded any pictures on Facebook for a long time now, even for events like weddings, engagements of my friends and even my own wedding and engagement photos. I think the more personal the events are to me, the more harder it is for me to choose the pictures (since we always take hundreds and millions of pictures) so I can't choose between the pictures an end up delaying uploading and now I have so many events to upload. But yesterday I was blackmailed(!!!) by my friends to upload Mimie's wedding immediately otherwise they don't want to pictures with me anymore so I stayed up all night to upload it. I didn't know that uploading pictures on Facebook is now much more easier (yes, I am that outdated the last time I uploaded was early last year) and yesterday I discovered that not only is the uploading so much easier they also have a scary face recognition feature to make it easier to tag people in pictures. Since I was so sleepy, I think I wrongly tagged some people. Sorry girls!
I love capturing memories which is why I always take lots and lots of pictures but later I always have trouble choosing pictures to upload. So how do I solve this? Collaging pictures! I love 'collaging' pictures it helps a lot since I can't choose. Be warned, lots of photos below!