Terima Kasih Cinta / Thank you Love
10:42:00 PM
Last night, I went to see a musical at Istana Budaya called Terima Kasih Cinta. One of my closest friends whom I have known since I was 7 years old, Hasanah was the organizer slash "ticket counter" for this musical. She organized and bought tickets for everyone to see this musical. To be honest, I did not really know what to expect from the musical because I mainly agreed to watching it because two friends of mine were in this, as well as to hang out with Sanah who had recently completed her second degree in Australia and who I haven't really had much time to spend with since she returned to Malaysia for good. Anyway, I can never (intentionally) refuse an invitation to go to a theatre and I've been going and enjoy going since my parents first brought me along when I was 10-11 years old.

The night did not start off too well because it took me two hours plus to get to Istana Budaya because of the heavy rain and the highly unusual traffic jam. Of course if you have lived in Kuala Lumpur long enough, you would know that it is a unique law of nature that heavy rains will always cause traffic jams here but this one was huge. I was stuck on the Jalan Tun Razak stretch which was not moving for about two hours.
Poster from google.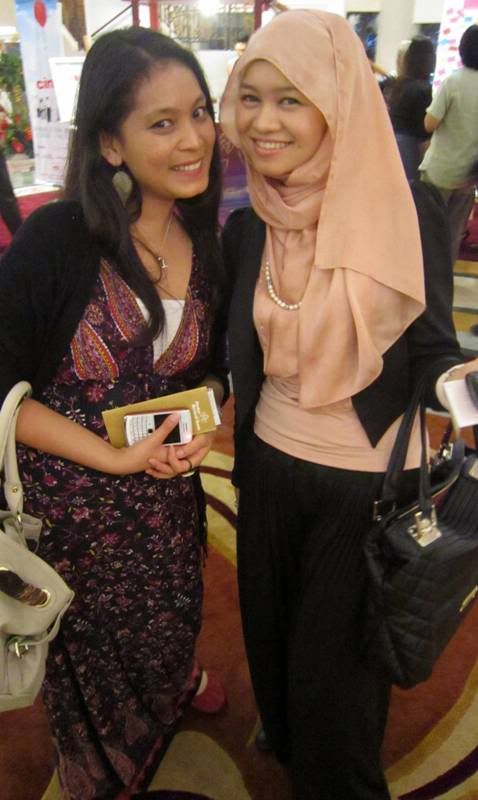 Bumped into Justine, my former SKBD schoolmate and uni-mate, and Fiza and Nazreen who I also bumped into the day before at the Curve before watching Burlesque!
Anyway, I managed to get to IB just in the nick of time before the musical started. Surprised to see some other friends I know there as well. The musical was great, it was headlined by a few well-known artistes and also Nadia Aqilah, a friend I got to know through Ruzana who put in a wonderful performance. There were some strong vocal performances although I felt that the acting at times were not that strong. However, I loved the ensemble. I spotted my junior, Haznita on stage too. We were cheerleaders together in school and she is also a gymnast.
Also met Azza who was my former primary schoolmate in CBN
Going into it, I did not know that Terima Kasih Cinta was an adaptation of the movie called

Cinta

which I watched over a year ago? I thought the flow of the story in the musical wasn't that smooth but for those who have watched the movie, they would be able to understand fully.That said, there were a few moments during the musical in which I teared. Those who love and have been in love would be able to relate to this multi-fractional insight on love. It does not just discuss about love in the normal context of boyfriend-girlfriend/husband-wife relationships, but also parental-child love, sibling love and much more. I did not wipe my tears because I was a bit embarrassed and didn't want people to know I was crying (It was only much later that I found out my friends also cried too and they also didn't want people to see them cry!). I really enjoyed the theme and some of the vocals made my hair stand on its ends and gave me goosebumps.
I later got to know from Iedil that every one in the ensemble were all talented singers capable of performing solo and were not just there to make up the numbers. No wonder the harmonization was excellent. It was also entertaining and funny throughout. Good job everyone involved in this show for succeeding in touching the hearts and senses of the audience!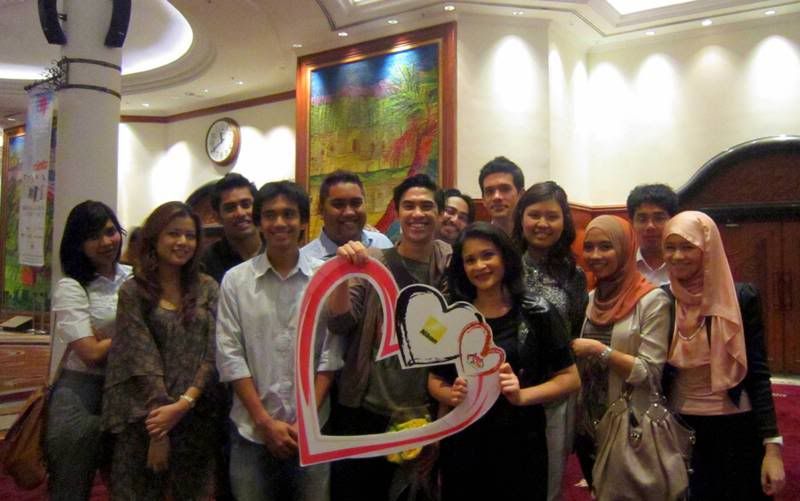 Taking a picture with Sharifah Aleya who was very friendly and went around with her camera and video taking photos with everyone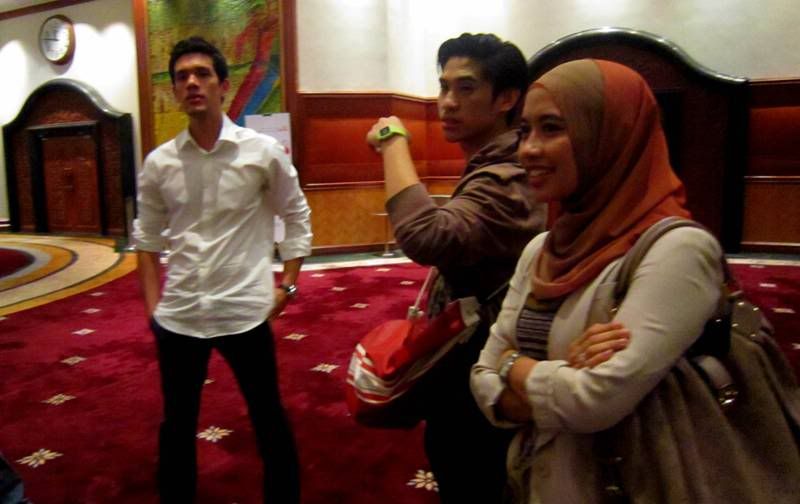 After the musical ended, we waited for Iedil who, as always, injected all of his energy, fun and laughter on the set to finish up signing autographs (hehe) and we all went to the recently relocated restaurant Castle for late-night supper.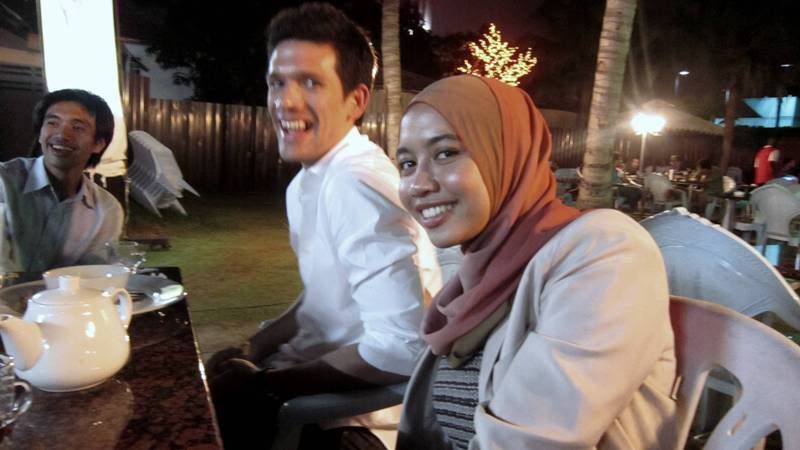 Iedil shaking his head in laughter at Pial's antics. So cute.
My brother listening in on the fun
We chatted the night away and had a lot of fun laughing at all sorts of topics, coupled with Pial Khadilla's outrageously funny antics. I ordered the Lamb Kabsa and I gotta tell you, Castle's Lamb Kabsa must be one of the best in town! It was a perfect way to end a very enjoyable night.
So anyways, I wore this silk satin scarf bought online from an Australian online hijab shop and I love the colour and the weight of the scarf which flowed smoothly and nicely. Will hopefully be looking to get more of these in the future. I also wore a cropped jacket and Pu3 pants since it was a working day.