Dipping Deep into Pladib
11:20:00 PM
My Husband and I recently went on a date nite at Pladib (read about it here) and this is what we had (be warned, it's a LOT!). Just the two of us!


We ordered our drinks, mine was a specialty drink from Pla dib, the
Mint Soursop Blast
(soursop, mint leaf, pineapple juice, fresh lime & sugar syrup). Perfect combination I tell you!! My husband ordered the
Strawberry Smoothie
with ice-cream topping. Mine was superb, but my husband thought the strawberry smoothie was a little too sweet. (He does not like sweet food stuffs as much as I do). So his opinion only counts to those who does not have a sweet tooth :p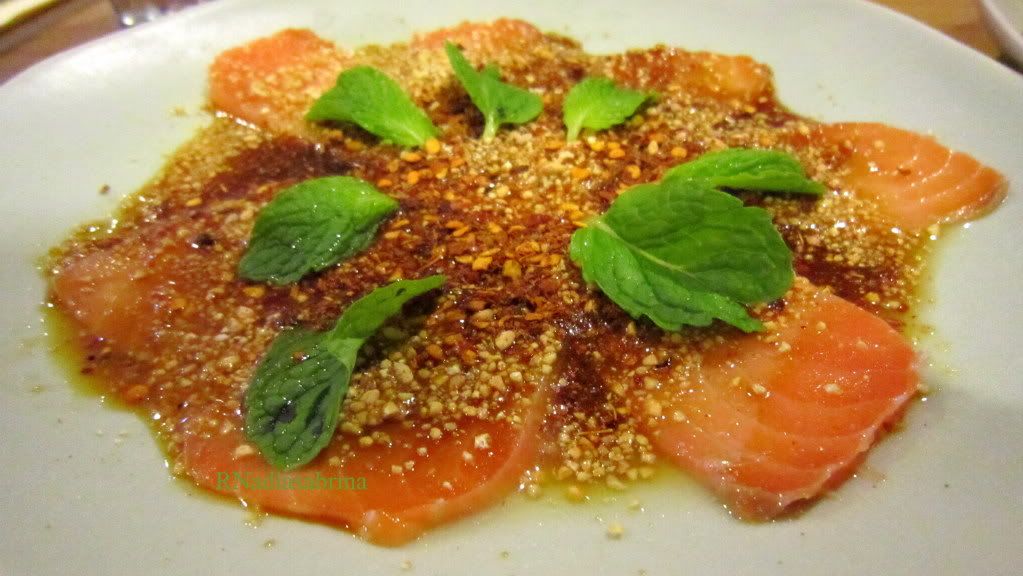 Since we were both hungry, we ordered two appetizers. Now this was the one I really wanted to try which came highly recommended from online reviews:
The Salmon Labb
. It was basically raw salmon slices with shoyu, chilli flakes roasted rice and lime juice! The portion was smaller than what I expected it to be, but it was super delicious. The different flavours really came together and combined well in the mouth. Thai-Japanese fusion yo!
(Reasonably priced at RM10)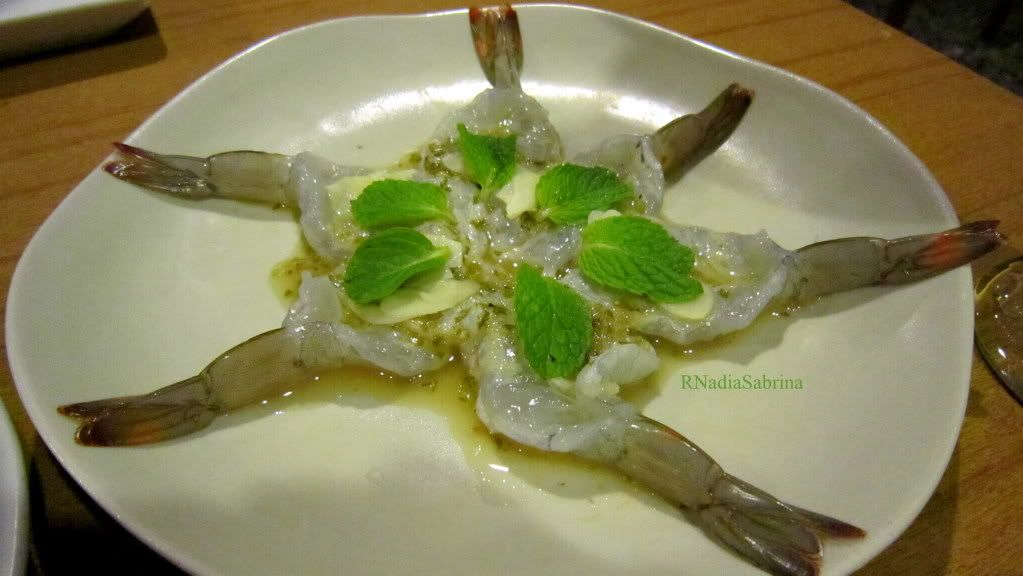 I don't know why, but I suddenly had the urge for shrimp, so we ordered the
Raw Shrimp in Fish Sauce
. Raw shrimp is not one of my favourite raw items when I go to any Japanese restaurant, but this is simply DIFFERENT. Just the right amount of chewy and a perfect balance sour from the sauce and sweet from the shrimp. Let me tell you, this was surprisingly even BETTER than the Salmon Labb. Don't let its simple / unappetizing look deceive you. My husband and I practically fought over the last piece o-gayh! (Priced at RM15 only)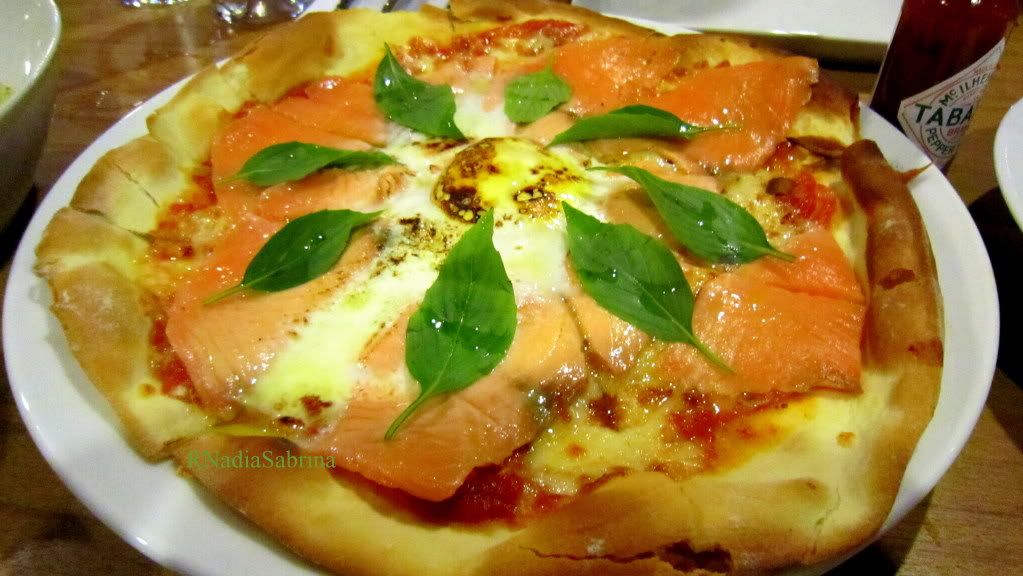 This was the reason I came all the way to Seri Kembangan: I saw reviews on Pladib's famous
Smoked Salmon Pizza
(and the Salmon Labb). I am crazy over salmon! Now, after seeing the disappointing portions of the Salmon Labb, i expected the pizza to be similarly small but when the pizza came, WOW. It was quite big, and I definitely had to share it. Duh! The crust was very thin and crunchy, and the salmon slices were really thick. My poor husband suffered from salmon overdose! hahaha.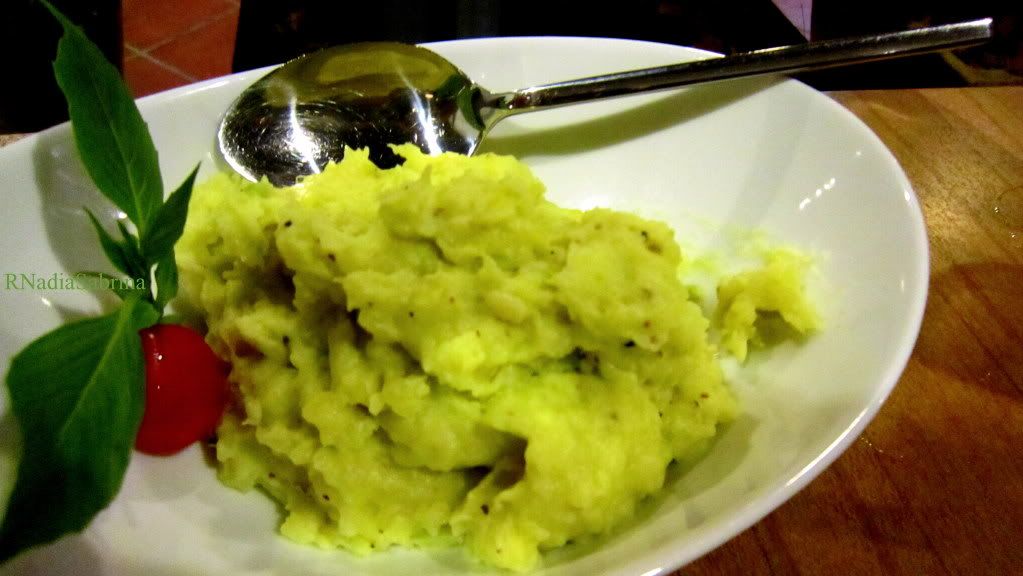 I also ordered the
Mashed Potatoes and Wasabi
because I was curious. This was simply scrumptious! The mashed potatoes were home-made with creamy chunky potatoes and the wasabi flavour was not that subtle, but explosive just the way I like it! The portion was generous and we scooped it up until the plate was clean. It left a lasting taste in the mouth, the wasabi was really strong. Maybe I should try to make this at home.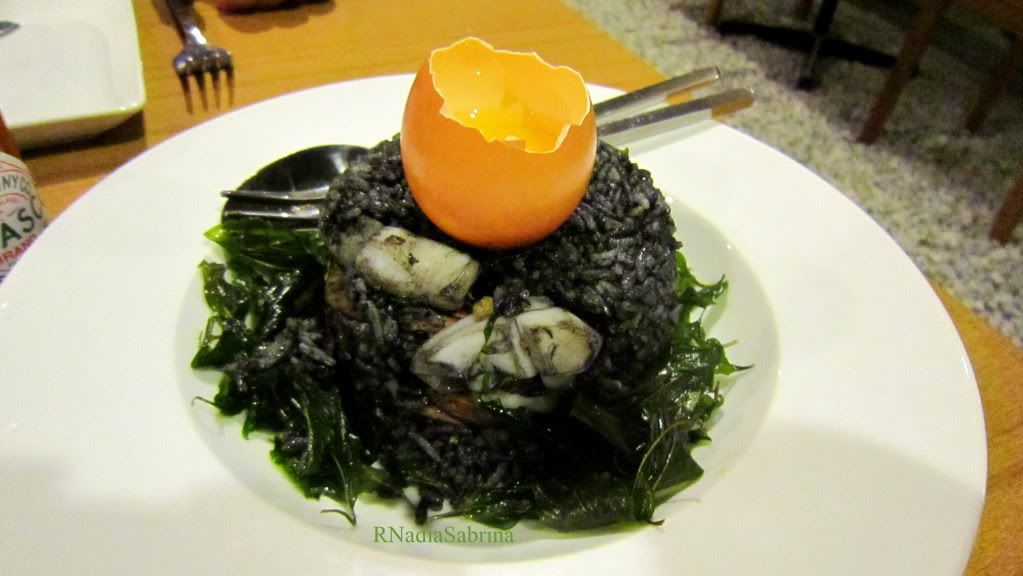 My husband ordered the
Black Fried Rice with Squid Ink and Seafood
. Now, we didn't know what the dish would look like and was somewhat surprised that it came with a raw egg on top. We were both apprehensive of this dish, and my hubby looked like he regretted ordering this. Personally, I was a bit sceptical myself when I looked at the dish.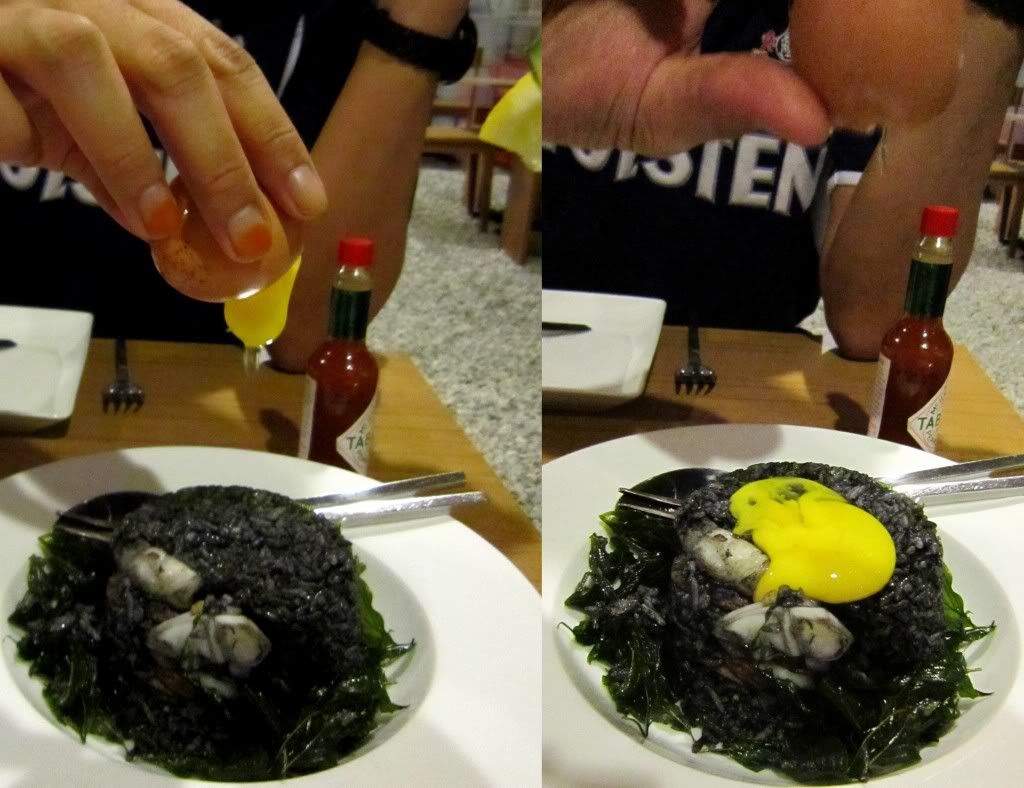 But, don't judge a book by it's cover. Although the presentation was unique we didn't expect it to be thaaaat good! So apparently, this is how you eat the dish, you have to pour the egg onto the rice. The smoked salmon pizza was nicer than the salmon labb, but the black fried rice was probably the best dish we ordered for the night. It was a little bit sticky (caused by the egg) but it was hot, very spicy and really outstanding.
Secukup-cukup rasa
! (Everything was just right). If I had to explain, it tasted a little bit like
Nasi Goreng Tomyam
but 10000000 times better! This is a definite must try, guys! The winner. It looks simple, but underneath the rice there are huge chunks of generous fresh seafood. Oh, I'm drooling again as I'm typing this.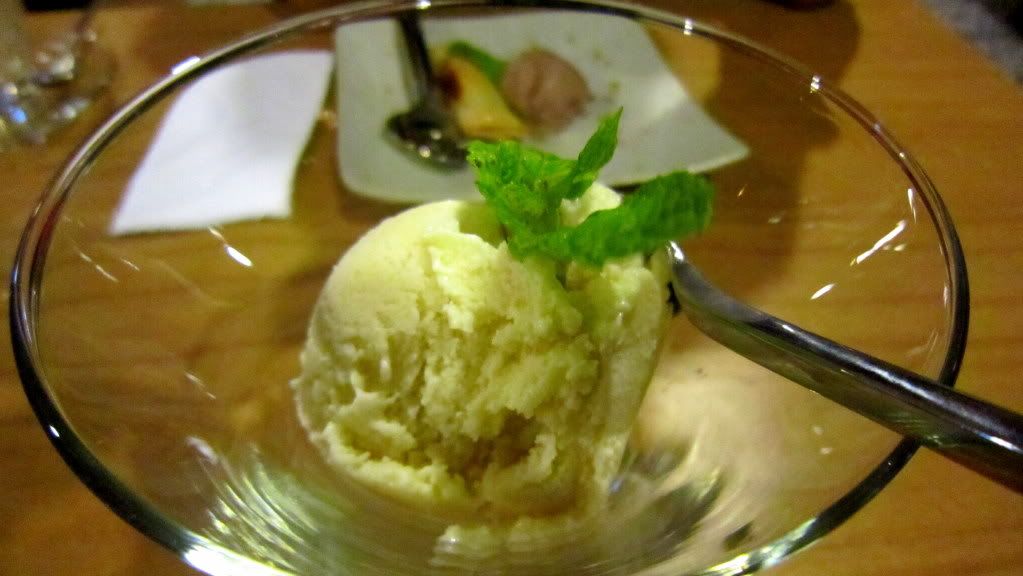 For dessert, I ordered the
Home-made Durian Gelato
which was quite nice I must say, and downed all the different flavours of the dishes I had today. That's expected, because it's durian! Creamy and pure! Although the durian was surprisingly not overpowering, it was the perfect ending to a wonderful fusion of flavours. Yummayh, this is.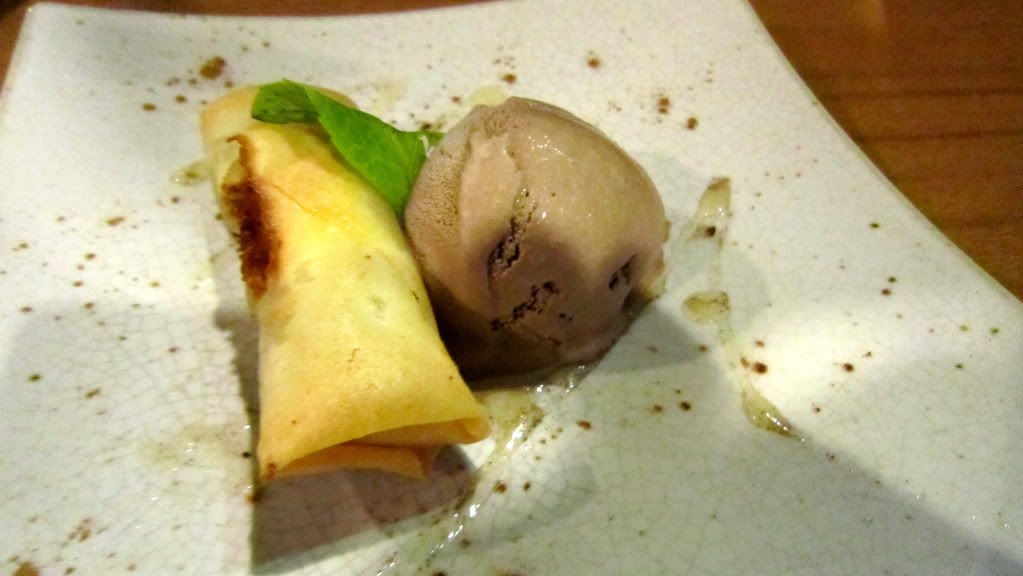 Hubby ordered the
Flame Crisp Mango with basil and vanilla ice cream
, although they ran out of vanilla ice cream and replaced it with chocolate ice cream, which my husband doesn't normally like. I didn't try this because I was already so full, but my husband said it wasn't anything special (probably because of the chocolate ice cream).
So that's the long list of what we had at Pladib.
Just the two of us
. Anyone who truly knows me would know that I eat a lot! I have a big tank like some of my friends say. Haha. Pladib has branches in Bangkok, Singapore and this outlet in Seri Kembangan is obscurely placed, but well worth the trip there.
Pladib is definitely on my must-visit again list. I came for the Salmon Labb and Smoked Salmon Pizza, which was delightful for a salmon-freak like me but the simple-looking shrimp and black fried rice were definitely must-try dishes which were unexpected.
Sometimes you find something better unexpectedly if you just give it a try.
The Thai-Japanese fusion was crayzeehh!!! Can't wait to go again!